Change Money at Hanoi, Ho Chi Minh or Da Nang Airport.
If you have just arrived in Vietnam and do not have Vietnamese Dongs, exchanging a small amount at the airport is a very good idea.
Although currency exchange at airports is usually not great, if you've never had Vietnamese currency on hand, changing a little will help you start to familiarize yourself with Vietnam banknotes (there are a lot of zeros).
We recommend you to exchange some money at the airport, in order to familiarize yourself with Vietnamese currency and use part of the money to buy a SIM with at the Airport.
Change Money in Jewelry shops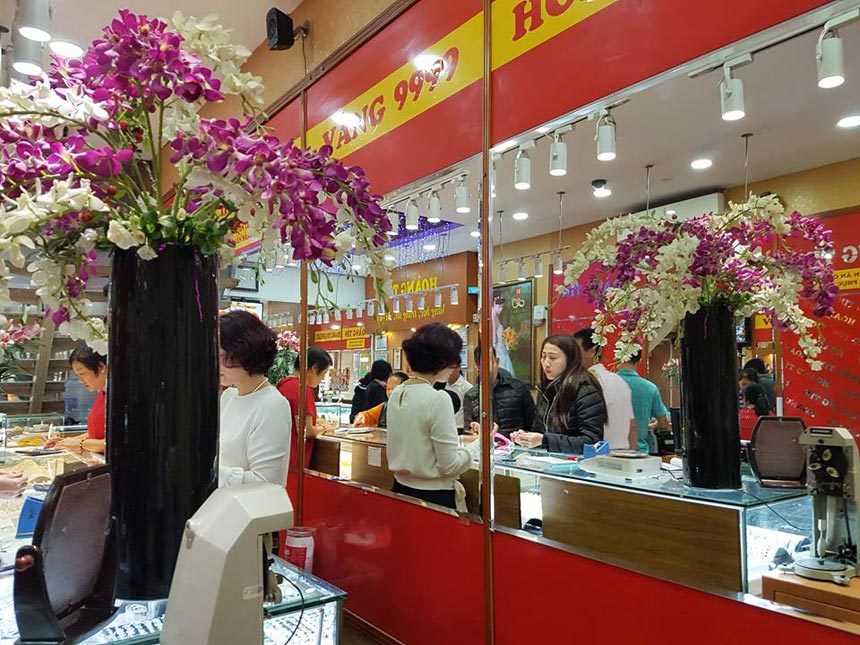 Jewelers in Hanoi and Ho Chi Minh City usually change money seven days a week at a better price than banks and without asking for your passport .
The change is usually indicated on illuminated screens hanging at the entrance of the establishments.
Change Money in Hanoi Jewelers
Hang Bac Street , located in the Old Quarter of Hanoi, is full of jewelry stores where you can exchange money from 8AM to 9PM, every day of the year (except National Holidays in Vietnam ).
You don't have to change all your money at once.
Hanoi's Best Change
A little further from the center, but not much, is the best exchange house in the city: the jewelry / exchange house located at 27 Ha Trung Street .
This place, full of Vietnamese exchanging currency from the most diverse countries, offers, in addition to the best exchange in Hanoi, an atmosphere that will not leave you indifferent.
It is worth losing a while to enter this Hanoi exchange house that looks like something out of a mafia clan movie .
That said, I want to emphasize that the place is perfectly safe and that the change is insurmountable . If you can, change here.
Change Money in Ho Chi Minh City Jewelry Stores
The best change in Ho Chi Minh City is offered by the following jewelers, all located in District 1 of the city:
Ha Tam Jewelery – Surely the best known.
Kim Mai Jewelery – Here I changed last time.
More Jewelers located in the vicinity of Ben Thanh Market
OTHER OPTIONS TO CHANGE MONEY
Here are other resources and options to change money.
Banks
Banks do not offer favorable exchange rates, but they can also be used to exchange money at reasonable prices in any city / town in Vietnam.
Vietnamese bank hours:
Monday to Friday from 8.30AM to 11.30AM and from 1PM to 4PM
Saturdays from 8.30AM to 11.30AM
Sundays closed
Hotels, Hostels and Travel Agencies
In many accommodations and travel agencies in the big cities of Vietnam they will give you the prices of tours , nights and / or activities in Euros or USD. Take advantage and pay in cash (USD or €) in these places.
As a last resort, hotels and travel agencies often offer currency exchange at slightly more expensive prices than banks. They are not the best option but in case of emergency, they are also a resource to consider.
Other Travelers
You can join traveler groups on WhatsApp or Facebook and ask other travelers if someone needs to exchange money.
This trick works both to change euros or dollars and to change money from neighboring countries. For example, it is very common for people to exchange Thai Baht for Vietnamese Dongs or the other way around.
Don't expect anyone to have large amounts of money from other countries, but it never hurts to know about this option.