Despite not having meters to spare, small kitchens can also be functional, complete and beautiful , sometimes even more than the perfect and spacious kitchens that you see in your favorite decoration magazines. It is a matter of taking into account, in addition to the structural solutions that logically enlarge the space, other elements and tips at an organizational and aesthetic level that you would never have imagined could work to make you feel completely comfortable in your kitchen. So if you do not have the money or the time to undertake a reform, you may well have the possibility to know and apply some secrets to make your mini kitchen pleasant, comfortable and adapted to your needs.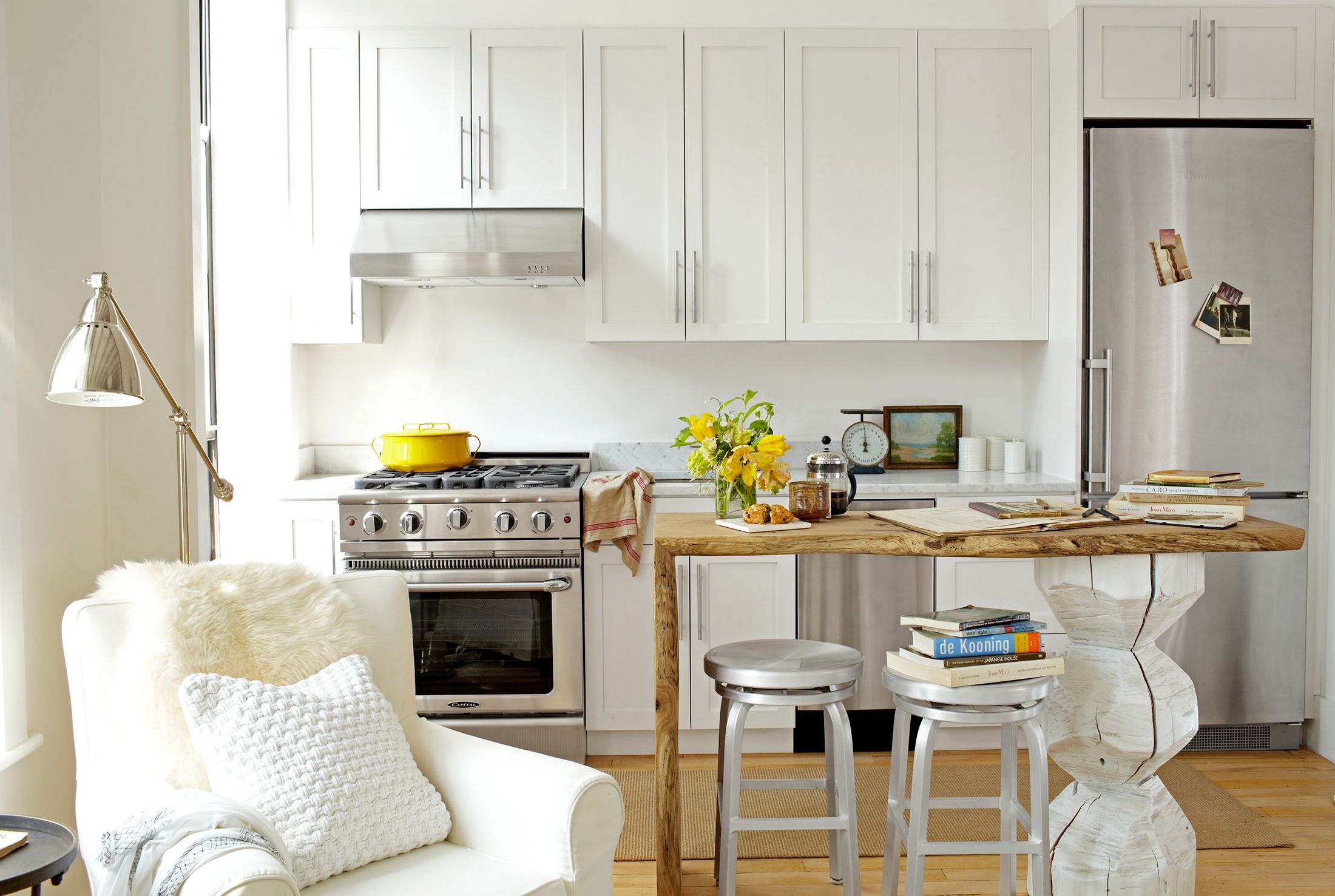 You should be open, therefore, to get rid of culinary gadgets that make your life easier but also take up a lot of space, to enhance the ingenuity to welcome different solutions in unexpected kitchen places and on the other hand, commit to being more Tidy so that your kitchen breathes cleanliness and spaciousness.
As starting point
Finding the best distribution is the first thing you should do if you start from scratch or have the possibility of reforming it. It will depend on the shape of the layout, but your maxim is to take advantage of all the space whether in line, in a U or in parallel or in an L shape, from floor to ceiling, so you will have to think about completing the storage spaces with doors with other open solutions such as shelves, flown shelves and thus add dynamism and lightness to your kitchen.
Gain clarity
If you have a window, you already have a lot of cattle because the natural light that enters optically expands the space . If not, you will have to illuminate it optimally with recessed spotlights under the cabinets, wall lights in storage and pantry areas and a point of light on the ceiling that generally illuminates the entire kitchen.
Use white and light tones (beige, ecru, pastel green, light blue, light pale pink and more colors that are ideal for your kitchen ) reflect the light, thereby enhancing the effect. If white seems very cold, soften and warm with touches of wood on the countertop, chairs and shelves. The strong tones are better left for small brushstrokes as accessories, some area of ​​the wall to give it prominence (with wallpaper, tiles, paint) or as in this example of an open kitchen, to highlight the space outside.
Smart furniture
In the absence of space, auxiliary or intelligent furniture is good, such as a folding table that you can open and close at key moments, storage trolleys with wheels to store dishes, preserves or small appliances or open shelves that allow you to store everything you need. it does not fit in the kitchen cabinets.
Hide or teach with pride
If you have a nice fridge like a Smeg, don't be afraid to place it outside the kitchen. Yes, it will blend seamlessly into your living room or dining room, especially if you have an open kitchen. And if not, think about the possibility of paneling your appliances to match the cabinets to achieve a very harmonious result that will also expand the space.
Clean and organized ALWAYS
It is a convenient rule to apply to any kitchen, but just in case, we remind you. All the more reason to do so if you have a mini kitchen. The key so that it does not look chaotic is obvious: always collect and clean, clear the countertop as much as possible, without exposing dishes in the sink, scouring pads and dish soap, various junk.
If you an open kitchen
Consider the option of putting a small bar or base unit, a portable island , it will serve as an extra space to store utensils, pots, pans, pans, which will also fulfill their function as a separation of environments without reloading the space.
Don't overload
Yes, this involves doing a small purge of everything that is not strictly necessary in a kitchen. We already know that there are some gadgets that make your daily work much easier, but think if it is worth it that they are so large and take up most of the drawers and cabinets. If you are not able to do without them or use them occasionally, think about moving them to furniture with doors in the living room or to boxes and containers that you can put in the storage room.
The key, on the wall
Ingenuity materializes in this structural element of your kitchen to be stored vertically: the wall houses many possibilities , such as placing shelves to store spices, hanging baskets for fruits and vegetables, shelves and rails to stack dishes and cups, even for hanging small saucepans. pans and cooking utensils on the cooking zone.