In these years, real estate market in District 2 has been vibrant but now become even more attractive with the appearance of a series of mega projects. Apartments in District 2, Ho Chi Minh City are becoming an investment trend in 2022. In particular, apartments located in Thu Thiem urban area are more and more interesting thanks to synchronous and modern infrastructure.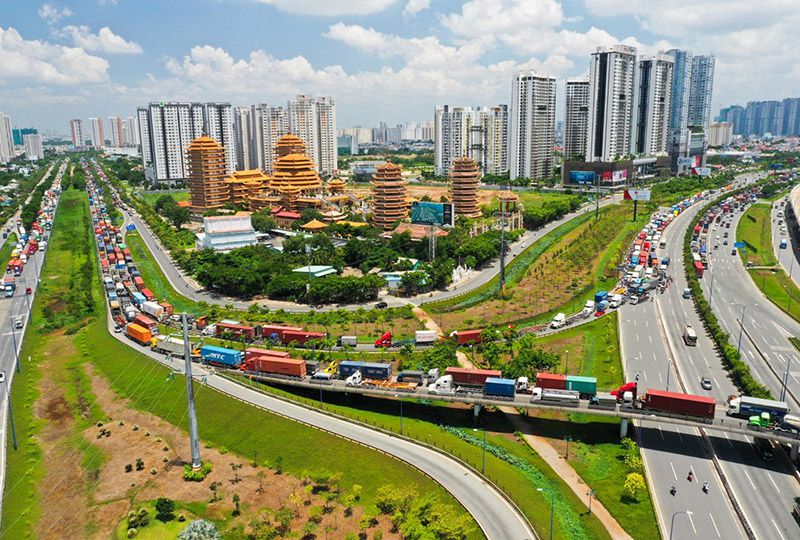 District 2 real estate in Ho Chi Minh City benefits from the infrastructure push
District 2 is an important administrative center of Ho Chi Minh City. Thu Duc City was established, then it helped real estate in District 2 receive more attention. In particular, commercial apartments are expected to be an attractive investment product when welcoming the trend of businesses shifting to a new city. Thanks to the "leverage" of Thu Duc City, land prices on the main roads in the eastern districts of Ho Chi Minh City (districts 2, 9, and Thu Duc) have grown since the beginning of 2021 and are still on the upswing.
​​From the very beginning, District 2 has been identified by the Ho Chi Minh City government as an expanded central area of ​​Ho Chi Minh City, undertaking commercial, service, and financial functions. This is also an area with many advantages in terms of planning, with a series of large infrastructure projects to connect with the old administrative center and dynamic economic areas in the region, such as the high-tech center, the East Economic Zone, and the East Economic Zone. In the South, a system of continuous seaports on the Saigon River in the modern new urban area of ​​South Saigon.
In District 2, it is the change in infrastructure, especially the transportation system, that has made the East Saigon area the center of attraction for investors in recent years. Prominent are the routes Hanoi Highway, Nguyen Duy Trinh, Luong Dinh Cua, Ho Chi Minh City – Long Thanh – Dau Giay highway, Thu Thiem tunnel connecting East to West, the metro line is gradually being formed, along with ring roads…
Not only investing in modern infrastructure, the landscape design of real estate projects in District 2 is also extremely beautiful.
Not only meet the function but also the people's aesthetic needs. Today, when the needs of residents to enjoy life are increasingly diverse, a real estate project that simply lacks green space and internal utility areas will receive less attention than projects of the same type but designed with closeness and harmony with nature.
Understanding the wishes of customers, real estate projects in District 2 not only focus on design but also build a green, fresh, and close-to-nature living space. Building green living space per capita is the destination of many smart real estate investors.
Hopefully, the above information will help you gain useful knowledge in the process of investing in the real estate market in District 2.